United States Philatelic Classics Society (USPCS)
Popular
Stamp Club / Posted 1 year ago / 1335 views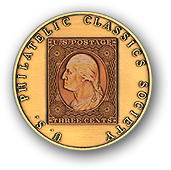 The U.S. Philatelic Classics Society is the successor of "The Three Cent 1851-57 Unit" (Unit Number 11) of the American Philatelic Society. It was originally founded by a group of '51 to '57 specialists that included Dr. Carroll Chase, Stanley B. Ashbrook, and Leo J. Shaughnessy. Since its founding, the Society has broadened its scope to include postal issues and postal history from the Stampless era up to the Bureau Issues through the Columbian issues.
Our members include both collectors and students. Some members have been students for more than 50 years; others for only a short time. Many have written articles that have been published in our award winning quarterly magazine, The Chronicle of the U.S. Classic Postal Issues, and in other publications.
Other members have written books, such as:
James Cole's "Cancellations and Killers of the Bank Note Era";
Jesse L. Coburn's "Letters of Gold, California Postal History Through 1869";
Tracy Simpson's "U.S. Postal Markings 1851-61";
Mortimer Neinken's "The United States One Cent Stamp of 1851 to 1861";
Theron J. Wierenga's "United States Incoming Steamship Mail, 1847-1875";
Walter Hubbard and Richard F. Winter's "North Atlantic Mail Sailings 1841-75";
Thomas J. Alexander's "1847 Cover Census."
We emphasize the need to share the results of our studies and research with fellow students and collectors. But most of all, we are here to promote enjoyment and fun from a hobby that has given us many hours of pleasure.