Updated 10/6/16
Beginning stamp collectors oftentimes find themselves stuck when it comes to properly starting a stamp collection. It can be difficult to get into the hobby if you don't know where to start. That's where stamp collecting kits come into play. Stamp collecting kits contain the supplies and information necessary for starting a stamp collection with ease.
In this article, I'm going to summarize the best, and most cost-effective stamp collecting kits available.
Top 3 Cost-Effective Stamp Collecting Kits on the Market
1. U.S. Stamp Collecting Starter Kit – 

See Price
Mystic Stamp Company created a winner with this one. An excellent buy at just $14.95, this stamp collecting kit offers everything you need to start a basic collection. I say basic, because this kit doesn't include more advanced stamp collecting supplies such as stamp tongs and a magnifying glass.
What this kit includes:
Illustrated U.S. stamp album

100 U.S. postage stamps

Stamp hinges – to secure stamps to album page

Guide to stamp collecting booklet
Here's the actual product description on Amazon, which explains the product in more detail:
Get Mystic's exclusive Historic Postage Stamps of the United States album for just $14.95. Act now and we'll include 100 used U.S. stamps, 1,000 hinges for attaching your stamps in your album and – all for FREE. It's a terrific value – you save over $24. The retail price of the Historic Postage Stamp of the United States Album is $36.95 – but it can be yours for just $14.95. You save $22.00. Plus you'll get 100 genuine U.S. postage stamps and collecting supplies for free. Mystic Stamp Company has been helping folks enjoy stamp collecting since 1923. We created the Historic Postage Stamps of the United States Album to help you take the first step toward becoming a real collector. Plus, this illustrated, one-volume album comes with 100 free U.S. postage stamps, free stamp hinges (so you can attach the stamps to the album) and a free stamp collecting guide booklet. So you'll get everything you need to start collecting. Each stamp is illustrated and labeled with its identification number, making it easy to see what you have and where to place it in your album. Facing pages contain stories about each stamp, so you'll discover lots of fun facts about the people, places or events pictured on every one. The album has a handy 3-ring design that allows it to lie flat for easy viewing of your collection. The Historic Postage Stamps of the United States album has spaces for 1,425 stamps. To get you started, we'll include 100 U.S. stamps FREE. You'll love sorting through all these postally used stamps commemorating what makes America great. Order now and you'll also receive Mystic's Guide to Stamp Collecting. It includes everything you need to know about the world's greatest hobby and it's yours FREE! Mystic's starter kit is the fun and affordable way to discover the joy of stamp collecting. A terrific value – and it makes an ideal gift.
So yeah, pretty decent value for the money. Again, it doesn't include some of the more advanced stamp collecting supplies, but what it does include is great for learning about stamp collecting and building your own collection.
2. Explorer World Wide Stamp Collecting Kit – 

See Price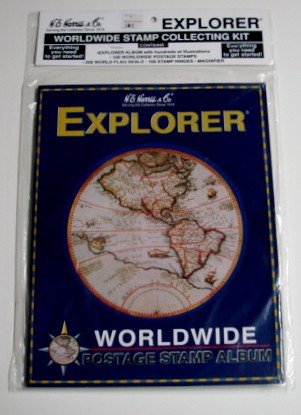 H.E. Harris and Co.'s Explorer World Wide stamp collecting kit is perfect for anyone on a budget interested in collecting stamps from around the world. This kit is aimed at young collectors, but adults just getting into stamp collecting can benefit from it as well. Although this kit doesn't include stamp tongs, it does come with a magnifying glass.
What this kit includes:
100 Different Worldwide Stamps

Worldwide Stamp Album

100 Stamp Hinges

Magnifier

200 Flags of the World Stickers
Here's the product description on Amazon. Although it doesn't reveal any more information regarding the kit, it just reiterates exactly what's included:
This beginner kit contains the Explorer album, 100 different worldwide stamps, 100 hinges, magnifier and set of 200 World Flag seals.
Again, great for the new collector looking to collect world wide stamps.
3. Patriot US Stamp Collecting Kit – 

See Price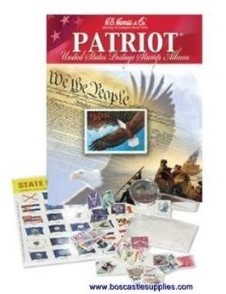 This kit is also created by H.E. Harris and Co., and is for those interested in collecting stamps issued by the United States. It's aimed at kids, but adults new to collecting can find value with this kit as well. This kit includes a magnifying glass, but not stamp tongs or other more advanced stamp collecting supplies.
What this kit includes:
USA Stamp Album

50 USA stamps

100 Stamp Hinges

Magnifier

US State Flag Seals
The product description on Amazon contains a more detailed explanation of what this kit includes, so here it is:
This is the Patriot United States Stamp Collecting Kit from H.E. Harris & Co.

FEATURES: A quality simplified, paperback album for beginning collectors of
United States stamps, with over 1600 illustrations.
Assorted used United States postage stamps.
Stamp hinges are small pieces of glassine, gummed on one side, and
used to mount your used stamps.
The Presidents of the United States set and the State Flags of the
U.S. are gummed and perforated for stamp albums, school work, etc.
They're decorative & educational.
Clear plastic, hand-held magnifier.

INCLUDES: (1) Patriot Album
(50) U.S. Stamps
Sets of U.S. Presidents & State Flag Seals
(300) Stamp Hinges
(1) Magnifier

SPECS: Size: 8-1/2″ x 11″
This kit is a good, yet budget-friendly option for people interested in collecting US stamps.
There you go, those are the best 3 budget-friendly stamp collecting kits on the market.
Since none of them come with stamp tongs, which I believe are the most important tools in stamp collecting, I highly recommend purchasing some. Many stamp tongs are of inferior quality, not fit for handling stamps. If you're okay with spending over $10 for quality stamp tongs, I'd suggest going with these. I personally use these stamp tongs, and they are very high quality, durable, and perfect for handling stamps. They are the last stamp tongs I'll ever need.
Cheaper options are available, but just remember they won't be as high quality, and some will even damage stamps. That's why I suggest going with the ones I linked to above. You'll be sure to get quality stamp tongs, and won't have to worry about whether they're causing damage to your stamps.
I hope you found this post helpful! Feel free to leave a comment below, and if you have any questions I'd be happy to answer them!