I love to save money whenever I get the chance. I think that's one thing we all have in common, right?
Awhile back I found that paying face value for stamps from the post office was a bad idea. I discovered something called discount postage, which is a great way to pay under face value for stamps that are worth face value! By using discount postage, I'm only paying about $0.36 to mail a letter, instead of $0.47. In all, I have saved about $50 thanks to discount postage.
How is this possible? Allow me to explain….
Let's say someone – we'll call him Mr. Collector – bought a bunch of stamps from the post office, and added them to his collection. Years later, he chose to sell the collection to Ms. Dealer. Ms. Dealer sorted through the collection, and only kept the valuable stamps. The left-over stamps were all common, and not worth keeping as collectibles. However, they were still good for sending letters in the mail. Ms. Dealer kept some of the left-over stamps for herself, and decided to sell the rest for under face value.
Ms. Dealer can do this, because the collection was actually worth more than what she paid for it. In fact, this is a very common occurrence in the stamp collecting world.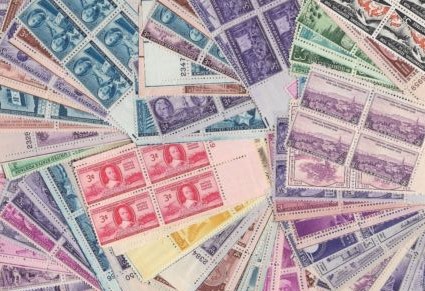 What to Look For When Purchasing Discount Postage
As a seasoned buyer, I've picked up a few tips when it comes to purchasing discount postage.
1. First and foremost, make sure the stamps you buy were issued by your country. It would be kinda useless to purchase United States stamps if you're in Canada….
2. Buy standard First Class stamps. Don't purchase anything like Presorted First Class unless you have a special permit to use precanceled or service inscribed stamps. Don't worry too much about this, just be sure to read the entire product description before purchasing.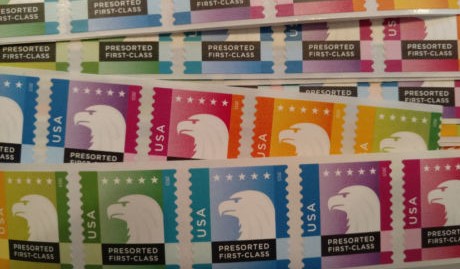 3. Look for the best discount. Some dealers will offer stamps at a 10% discount while others as much as 30%.
4. Purchase combo lots. It can be a pain using 5-10 low-denomination stamps on each letter I send out, and combo lots solve this issue. Here's how they work: stamps are sorted into two piles. One pile contains 34-cent stamps, and the other pile contains 13-cent stamps. Using one stamp from each pile on your letter will be just enough to cover the current First Class rate. Some combo lots have more than 2 denominations, meaning you'll have to use 3, or even 4 stamps per letter in order to cover the First Class rate.
By the way, discount postage stamps generally aren't self-adhesive. Some of the newer ones are, but most are not. If you don't like the idea of "lick and stick", simply use a sponge or damp paper towel to moisten the stamp's gum.
Here's Where I Buy Discount Postage
I always buy discount postage on eBay. It's quick and easy, and there are multiple sellers to choose from. If you like the idea of a combo lot (I sure do!), then consider checking out discount postage combo lots on eBay. As you browse through, you'll notice that some sellers have better deals than others. Of course, go with the best deal you can find.
The Bottom Line
Discount postage is awesome. It's cheaper than buying stamps from the post office. The stamps are a blast to use, knowing they're 10-80 years old. But the best thing about discount postage is that it's discount postage. After all, what's not to love about saving money when you have the chance?
Thanks for reading, and I hope this post was helpful. I'd love to hear your thoughts or answer any questions you may have, so please leave a comment below. I'd be delighted to hear from you!